We're proud to announce Serpify, a Rank Checker tool built for SEO Agencies & Professionals.
We're building in public, see all updates here.
What is Serpify?
Serpify is a powerful SEO tool that enables users to monitor keyword rankings and gain valuable insights into their SEO performance. Developed by a team of professional SEOs with over 10 years of experience, Serpify addresses the limitations of manual rank checking by offering accurate, location-specific rank checks that are unbiased and tailored to the user's requirements. With Serpify, you can track your keyword rankings effortlessly, save time, and make data-driven decisions to optimize your SEO strategies.
Key Features of Serpify:

On-Demand Rank Check: Serpify allows you to check keyword rankings at any time of the day. The results are refreshed instantly within seconds, providing you with up-to-date information on your rankings.
Country-Wise Rank Tracking: With Serpify, you can set your target country and language to track rankings specific to that region. This feature ensures that you receive accurate and relevant ranking data for your target audience.
Expert Customer Support: Backed by a team of SEO experts and market leaders, Serpify offers reliable customer support to assist you with any queries or technical issues you may encounter. Their dedicated support team is available 24/7 to help you make the most of the tool.
Privacy and Data Security: Serpify prioritizes the privacy and security of your sensitive data. All your data is stored in encrypted format, ensuring total privacy. Your sites, keywords, and other confidential information are securely saved and not disclosed to anyone.

Export Reports: Exporting reports in one click is made easy with Serpify. You can generate comprehensive reports and keep an organized record of your rankings in an Excel format, facilitating data analysis and tracking over time.
Language Selection: Serpify allows you to check rankings in the language you are focusing your SEO efforts on. This feature enables you to monitor your performance in specific language-based search results.
Fast and Efficient: Serpify eliminates the hours of manual rank checking by providing you with accurate rankings in just a minute. This time-saving feature allows you to focus on other essential aspects of your SEO strategy.
Location-Based Tracking: By checking your rankings based on country, Serpify provides more accurate data, helping you understand your performance in specific geographical areas.
User-Friendly Interface: Serpify offers an intuitive and user-friendly interface, making it easy for users to add domains, keywords, and track rankings effortlessly. Even if you are new to SEO tools, Serpify's simple layout ensures a seamless user experience.
Affordable Pricing :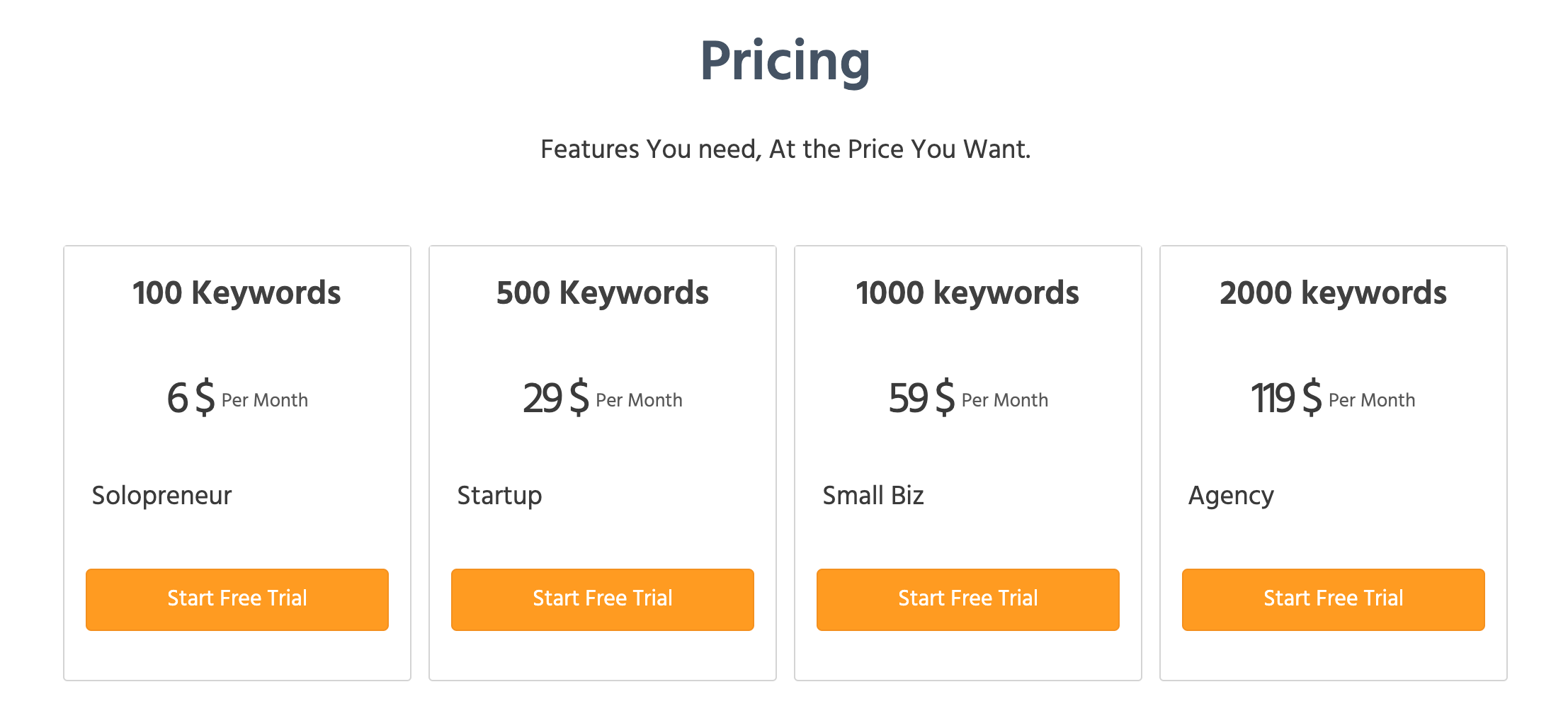 We wanted to make Serpify as affordable as possible, Serpify's simple pricing is able to cater to everyone from Solopreneur to Startups.
In today's competitive digital landscape, tracking keyword rankings is vital for successful SEO strategies. Serpify offers a comprehensive solution for monitoring and analyzing your keyword rankings accurately and efficiently. With its range of powerful features, including on-demand rank checks, country-wise tracking, expert customer support, and more, Serpify empowers SEO professionals to make data-driven decisions and optimize their SEO efforts. Start your free trial today and take control of your search engine visibility with Serpify.
Remember, understanding your keyword rankings is the first step towards improving your SEO performance. With Serpify, you can monitor, analyze, and improve your keyword rankings with ease and confidence.
Note: The features mentioned in this blog post are based on the information available on the Serpify website as of May 2023. For the most up-to-date and accurate information, please visit the Serpify website.